The breakdown of CPT codes for telehealth.
Billing for telehealth can seem complicated and intimidating. That's understandable since there are so many moving parts such as ever-changing legislation and laws related to Medicare and Medicaid. But it may be easier than you think. Here we break down what you need to know about CPT codes.
Understand the CPT codes.
CPT Code: 
Current Procedural Terminology, a medical code set that's used to report medical, surgical and diagnostic procedures and services to entities such as physicians, health insurance companies and accreditation organizations.
GT: 
Used for interactive audio and video telecommunications systems. This modifier tells the payer that a provider delivered service via telemedicine.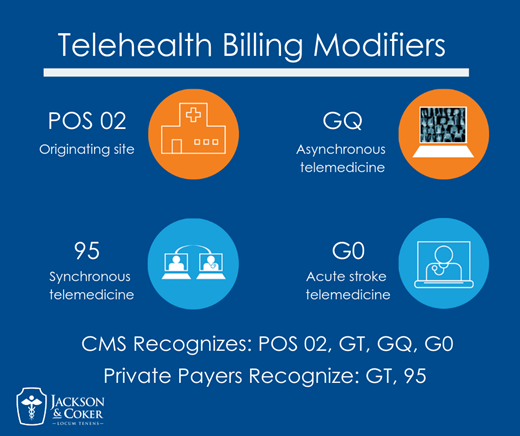 GQ: 
Used for telehealth service rendered via asynchronous telecommunications system – store-and-forward patient medical data.
95:
Synchronous telemedicine service rendered via a real-time interactive audio and video telecommunications system.
G0: 
Telehealth services for diagnosis, evaluation or treatment of systems of an acute stroke – must be included for Medicare and Medicaid plans.
POS 02: 
The location where health services and health-related services are provided or received by an eligible Medicare beneficiary, through a telecommunication system. Can be used for synchronous telemedicine visits. Also known as an originating site.
For more information on 2019 CPT codes, visit here.
Know who recognizes which codes.
It's important to understand which modifier is being used and why. For example, Medicare and Medicaid do not recognize modifier 95. Only commercial insurance plans and private payers recognize this modifier.
CMS always requires a place-of-service (POS) 02 code for interactive video services because it indicates the patient was at an eligible originating site. Originating sites could be the office of a physician, a hospital, a rural health clinic, etc. The use of this code certifies that the service meets the telehealth requirements.
The GT modifier was replaced in 2018 with POS 02, but that doesn't mean that the GT modifier has gone completely extinct. In fact, there are private payers who still prefer the GT modifier. You must use the GT or POS 02 modifier for Medicare and Medicaid plans.
Additionally, Medicare only pays for visits between physician and patients when they connect in real time, which are synchronous visits. Medicaid will pay for visits where a physician and patient don't interact at the same time, which are asynchronous visits. The catch: it only applies to some states.
Now you've got the basics to jump into the telehealth billing world. But it is important to remember that each insurer handles billing differently, so it's best to call them directly to figure out which modifiers they use for which services. You also must consider how reimbursement differs state by state and how that will affect your billing process.
Learn about projects for telehealth.