What "locum tenens" means for you.
So you're considering making locum tenens your full-time career. It's never been a better time to be a locum tenens physician, and for many physicians, it can make for a rewarding career. 
Locum tenens loosely means "placeholder" and refers to physicians who provide temporary coverage for medical facilities that have gaps in their schedule, whether caused by parental leave, vacation time or seasonal high volume.
Why should I work locums and why is it growing in popularity?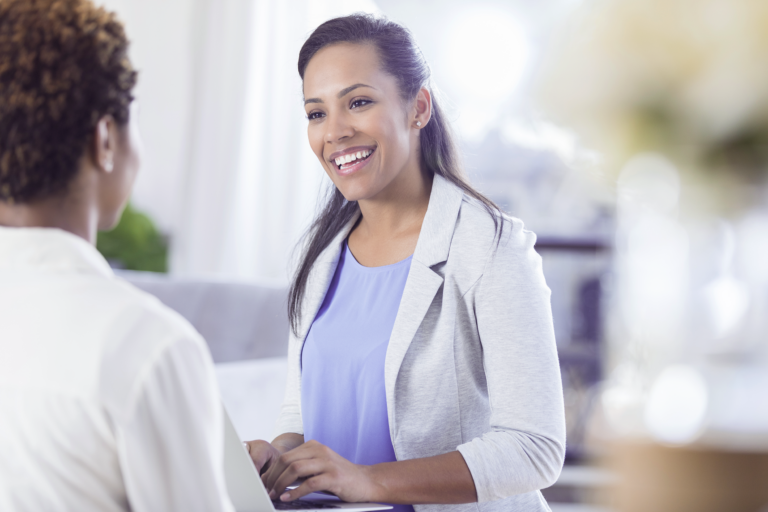 Physicians work locum tenens jobs for a multitude of reasons, from paying back student loan debts to keeping skills fresh.
Here are the most common profiles we see of successful full-time locums physicians:
Humanitarians who want to help underserved areas who need them most.
Mission workers who need a flexible schedule that allows them to volunteer overseas.
Retirees who have closed their permanent practices but want to continue to work.
Patient advocates who want to spend more time with patients and less on paperwork and other bureaucratic duties.
Explorers who enjoy traveling, meeting new people and experiencing new practices.
Multi-talents who need time to pursue their other passions.
More and more, physicians are seeing the benefits of the locums lifestyle. Your skills are in demand. Locum tenens gives you an abundance of available opportunities, but also allows you to be selective about which assignments you take.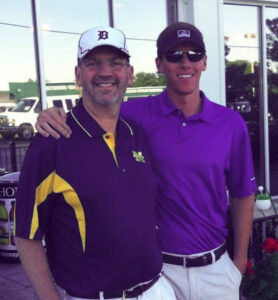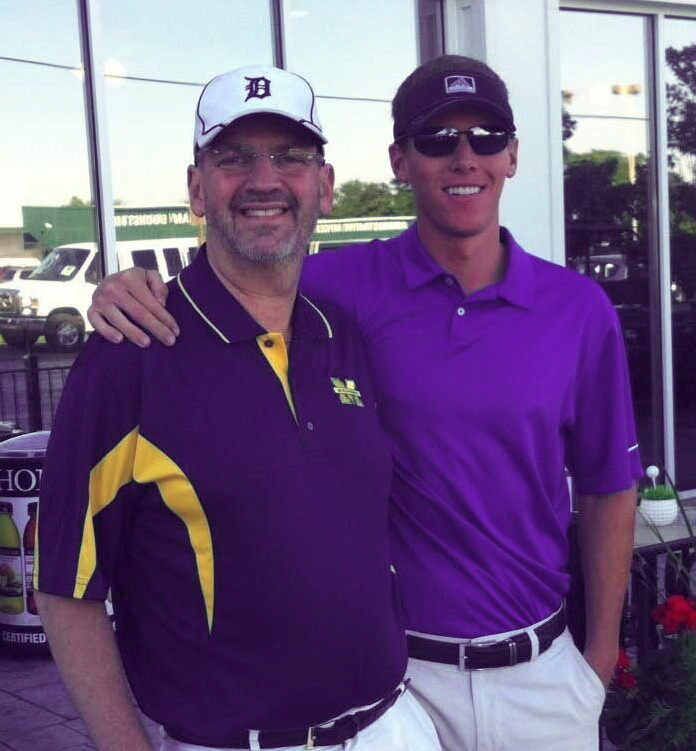 Benefits of locum tenens: The journey of locum tenens psychiatrist, Dr. Fred Moss.
Psychiatrist Dr. Fred Moss was ready to give up on medicine. The high overhead costs of running his own practice, funds tied up in collections and inability to reach patients who weren't near his physical location – these all left Dr. Moss fed up with being a physician.
As a kid, he knew he had a gift for being a great listener and helping his peers solve their problems. He got into medicine to help people and found that locum tenens gave him the opportunity to reach more patients. By traveling to where help is needed most and taking advantage of telehealth opportunities, Dr. Moss is making a bigger impact than ever before.
Can locums be a full-time job?
More than 90 percent of U.S. facilities use locum tenens. There are plenty of opportunities for locum tenens work in every kind of facility – big and small, rural and urban, government and private. With growing demand for physicians, it's easy to make a full-time career solely out of locum tenens jobs.
In the U.S., the physician shortage will reach an estimated deficit of over 100,000 physicians by the year 2030. Coupled with our aging population and changes in the healthcare system, many facilities are left without adequate coverage, and that will continue to be a problem for years to come. These facilities turn to locum tenens physicians to help fill those gaps.
Locum tenens doesn't require you to be mobile. You can often find contract work in the area where you live. If variety is more your speed, locums gives you the opportunity to travel while your lodging and travel expenses are covered.
What makes a good locum tenens physician?
Locums work requires physicians who have a certain amount of flexibility and willingness to adapt to new systems. Each new facility you enter has a different set of rules and a different established social climate and culture.
Traits of a successful locum tenens physician include:
Timeliness for all assignments.
Ability to act on your feet and remain flexible to new situations.
Docility when working with new teams and managers.
No outstanding claims or lapses in certifications that may make it hard to get licensed in new states.
How do I resign from my permanent employment?
Before making any hasty career moves, make sure you have a solid understanding of your contract and its resignation terms. It's a good idea to consult an employment lawyer who has experience working with physician contracting.
Go back to your employment agreement and check for these requirements:
Advanced notice length, sometimes up to 60-120 days.
Non-compete clauses.
Tail coverage.
Debt or loan paybacks.
Retirement plan requirements.
Have a timeline for departure. As early as possible:
Notify state and specialty medical societies, medical licensing boards and the DEA.
Let malpractice carrier and health plans know of your plan.Six months out:
Six months out:   
Notify your colleagues.
Ensure you have a plan for ensuring patient records are protected and transferred properly in accordance with state and federal laws. Remember that these records are typically owned by the practice, not you as a physician.
One month out:    
Give your patients written notice that you will be leaving so you can seamlessly transfer care to another provider.
Contact any hospitals or other medical facilities where you treat patients.
Check your state requirements for other notice obligations, including posting a notice in the local newspaper.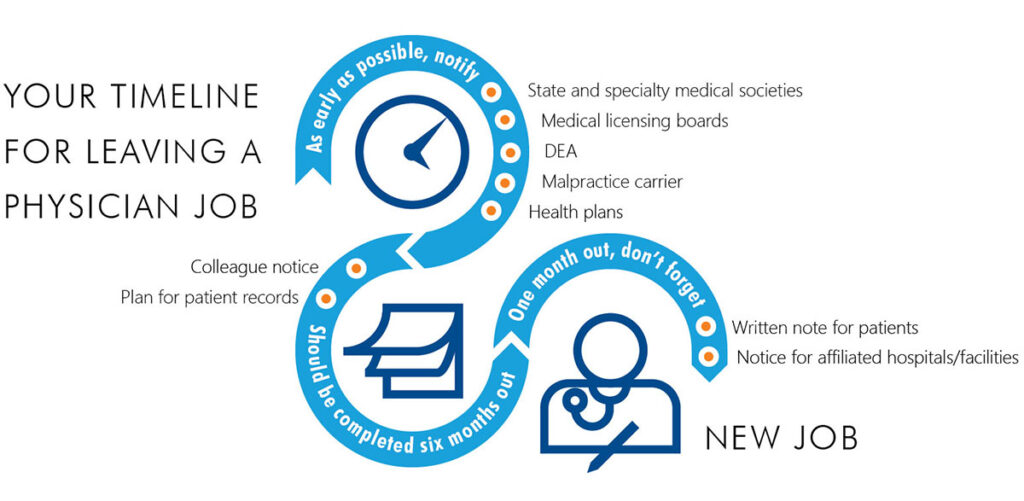 How do I find locum tenens jobs?
With high demand for locum tenens physicians, you'll find there are open jobs in facilities of all kinds throughout the United States. While you can find a job on your own, it's often easier to use a locum tenens agency to find placements for you. An experienced recruiter acts as an advocate for you, negotiating with the facility on your behalf, and as a coordinator, working to fill your schedule as you'd like.
When you do speak directly with a healthcare organization regarding an open locums job, make sure you ask questions to understand exactly what will be expected of you during the assignment.
These details include:
Why you're providing locums coverage.
Rates offered and whether lodging and travel expenses are covered.
Hours and call requirements.
Number of patients you're expected to see per day.
Your support staff and fellow physician team.
Length of assignment and schedule.
Skills needed including EMR/technology requirements.
What should I know about locum tenens agencies?
Choosing to work with a locum tenens agency is all about finding a recruiter who you trust and with whom you feel comfortable. A recruiter should show you that he or she is interested in getting to know you at a more personal level beyond your CV. Matching you with the right jobs will require balancing out your wants, skills, experience and values.
Ask about the company's placement process. Make sure you're not getting involved with someone who will present your CV to a facility without running the job by you first. Ask about the medical malpractice insurance policy – it should be top-rated by an independent evaluation company.
Discuss with your recruiter how many patients you're willing to see in a day, locations you like (or if you'd prefer to be in driving distance), your expertise and the types of practice settings you enjoy.
Your recruiter is there to serve you and help you find locums opportunities that are the right fit, so that both you and the facility will succeed. Your recruiter or consultant should be your advocate, able to negotiate contracts for you and be reached 24/7 in case problems or concerns arise while you're on an assignment.
Checklist for working with locums agencies:
Experience with locums recruiting and specifically your specialty.
Membership in the National Association of Locum Tenens Organization, whose members agree to abide by a code of ethics.
Malpractice insurance coverage that is top-rated.
Direct deposit and weekly pay for your assignments.
Travel and lodging covered.
24/7 access to help when you are on assignment.
Help with licensing and hospital privileging.
Transparency and open communication.
How do I prepare for my first locums assignment?
Checklist:
Travel plan including flight confirmation and plan to get from the airport to the facility.
Rental car information and GPS or smartphone with the facility and lodging addresses.
Information for your contact at the new facility.
Information for your staffing agency and recruiter.
Prescription pad if the new facility requires it.
Applicable immunizations as required by your facility.
Clothes in accordance to the organization's dress code.
Hiking boots, yoga clothes, a Netflix subscription – things you'll need to have fun and relax while you're in a new place!
What should I know about locum tenens taxes?
As a locums physician, you'll need to fill out a 1099 form with any facility you've worked with over the year. This makes filing taxes a little different than it would be for a physician with a standard W-2.
The best way to tackle taxes is to find a trusted accountant who you can rely on throughout the year. This person needs to be a certified public accountant, licensed attorney or enrolled agent who can show you a Preparer Tax Identification Number and membership in the National Association of Tax Professionals.
Because you're not paying income taxes throughout the year, you'll need to set aside roughly 40% of your income to pay come tax time. You can also submit quarterly estimates to the IRS to help minimize that year-end payment.
The good news is that many of your locums-related expenses such as housing and travel not covered by your agency, continued education, equipment, etc. can count as itemized deductions. Additionally, remember to save for retirement as a self-employed physician.
Ready to make the switch to locum tenens? Jackson + Coker recruiters can coach you through the process to get started with no cost or commitment to you. We'll find you the right opportunities, so that you can have the physician lifestyle you've been seeking.