Expand Your Impact Through Locum Tenens

We Can Help You Fill Gaps to Care
Jackson & Coker places more than 1,500 physicians and advanced practitioners a year in jobs they love in virtually every major specialty and state.
As a recipient of the 2021 Best of Staffing for Talent Satisfaction Award by ClearlyRated, it's proven that we strive to place you in positions that are not only personally fulfilling but professionally elevating as well. With your help, Jackson & Coker wants to break down the barriers preventing patients from receiving the care they need.
More than 90 percent of U.S. facilities use locum tenens, which creates ample opportunities for locum tenens work in every kind of facility – big and small, urban and rural, private and government. No matter where you are on your career path, locums work can offer you profound benefits.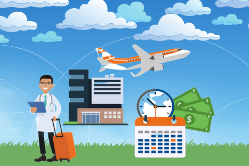 When you think about your dream job, what comes to mind? Take off on a journey customized for you!
What You Get When You Work With Us
Find Out More About Locum Tenens: