What you need to know about nurse practitioner and physician assistant salaries.
Part of any successful career plan is knowing the going rate for your specialty, experience and region. Demand for healthcare is growing, and we are seeing rises in physician salaries as healthcare organizations compete to attract top talent.
In most industries, there are many factors that influence how much an employee makes. The same is true for medical professionals. Jackson + Coker analyzed and compiled NP and PA salary reports from key industry sources for the top specialties.
Use this guide as an aid for your career strategy – and as a way to justify your salary expectations when applying for a role.
Physician shortages: why advanced practitioner salaries are going up.
What's behind the salary increases? There is a growing demand for physicians throughout the United States. The Association of American Medical Colleges projects a shortage of more than 100,000 doctors by 2030, as America's population ages, demanding more medical care. Concurrently, our physician population is aging and a large percentage of physicians will retire soon. More than one-third of active physicians will be 65 or older in the next 10 years.
As healthcare organizations compete for a dwindling number of physicians, you can expect that these facilities will recruit nurse practitioners and physician assistants as one of the strategies they use to fill open physician roles.
How nurse practitioners are filling the gaps.
The nurse practitioner market is booming. There are more than 325,000 NPs licensed to practice in the U.S., a number that has grown exponentially in the last several years, according to the American Association of Nurse Practitioners.
What's behind the NP growth rate? The same factors contributing to America's physician shortage. The lack of available primary care physicians can be counteracted by services offered by NPs.
Lawmakers across the U.S. are seeking loosened restrictions for NPs to give them greater autonomy when caring for patients, avoiding the need for physicians to supervise. The Veterans Administration decided to grant full practice autonomy to NPs, CRNAs and clinic nurse specialists.
The Bureau of Labor Statistics projects 45% job growth for NPs by 2029, far outpacing the average job growth outlook.
The best states for nurse practitioners.
The top states for NP salaries as of 2020 BLS data are California, New Jersey, Washington, New York and Massachusetts. Compare that with states with the highest concentration of jobs and location quotients: Mississippi, Tennessee, Alaska, Kentucky and Maine.
States with highest annual mean wage for nurse practitioners:
California, $145,970
New Jersey, $130,890
Washington, $126,480
New York, $126,440
Massachusetts, $126,050
Source: BLS, 2020 Data Accessed June 2021.
States with highest location quotients for nurse practitioners:
Mississippi
Tennessee
Alaska
Kentucky
Maine
Source: BLS, 2020 Data Accessed June 2021.
The booming and necessary role of physician assistants.
Physician assistants are poised to grow at a much faster rate than other occupations. Physician assistant employment is projected to grow 31% by 2029, according to the BLS, compared to just 4% for all occupations. PAs will continue to play an integral part in our healthcare system as the demand for healthcare services grows.
The median annual wage for physician assistants in 2020 was $115,390. Of course, the type of facility impacts PA salaries, with those in outpatient care centers and hospitals making more than those in physician offices.
The best states for physician assistants.
Physician assistants salaries vary by state. The states where PAs make the most are Alaska, Connecticut, Rhode Island, California and Nevada. States with the best job opportunity are New York, Connecticut, Maine, Alaska and North Carolina.
States with highest annual mean wage for physician assistants:
Alaska, $150,430
Connecticut, $146,110
Rhode Island, $135,800
California, $135,180
Nevada, $134,770
Source: BLS, 2020 Data Accessed June 2021.
States with highest location quotients for physician assistants:
New York
Connecticut
Maine
Alaska
North Carolina
Source: BLS, 2020 Data Accessed June 2021.
What to know about benefits for advanced practitioners.
Beyond base salary, you'll need to take benefits into account when considering a new position.
Employee benefits cost U.S. employers an average of $12.74 per hour, according to recent data from the Bureau of Labor Statistics, making up about 31% of employees' total compensation. So, if you make a salary of $299,000, you can expect to receive about $90,000 in standard benefits.
A strong basic benefits package includes medical and dental insurance, cost sharing, disability insurance, life insurance, paid time off, retirement funds, CME dues and malpractice coverage, according to SullivanCotter, a firm that provides healthcare benefits strategy.
Of course, as organizations try to woo a small pool of physicians, many are offering non-traditional benefits like relocation expenses, student-loan repayment and sign-on bonuses which can reach into six figures.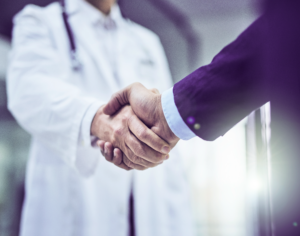 Get the advanced practice role you deserve.