Supporting Long-Term Mental Health Solutions for Physicians & Advanced Practitioners
Physician burnout in 2022 is reported to be 5% higher than the previous year, reaching nearly 50% according to Medscape's 2022 Physician Burnout & Depression Report. While the report shares not all causes are pandemic-related, the impact of the last two years upon the mental health of medical practitioners cannot be underestimated.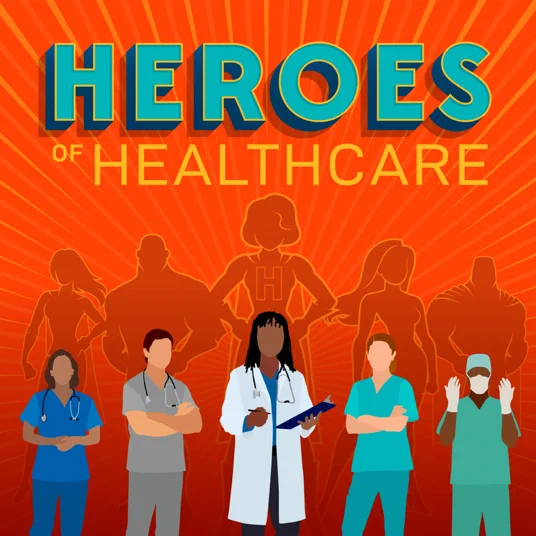 Dr. Kellie Stecher is one of the founding members of Patient Care Heroes, an organization focused on sharing the stories of practitioners who are facing mental health struggles. She joined Ted Weyn, Jackson & Coker Executive Vice President of Systems, Innovation, Marketing & Strategy, on the Heroes of Healthcare podcast to discuss some of those findings.
"We're losing a lot of amazing individuals just saying 'I've had enough I'm not going to be in healthcare any longer'," said Dr. Kellie Stecher, OB/GYN and Chief Medical Officer at Linked Inclusion on the Heroes of Healthcare Podcast.
These struggles are contagious – according to the Advisory Board, 30% of people experience "secondhand stress" from others. This stress coupled with the length of the pandemic and rapid shifts in daily living left many people searching for equilibrium.
Headlines share the mental toll the pandemic has taken as healthcare systems move to support the mental wellness of their practitioners. A CDC study found more than 70% of U.S. healthcare workers suffer from anxiety and depression while 38% have PTSD symptoms, and 15% have had thoughts of self-harm or suicidal thoughts. 92.6% of the study respondents worked directly with Covid-19 patients.
"Implementing prevention and control practices that eliminate, reduce, and manage factors that cause or contribute to public health workers' poor mental health might improve mental health outcomes during emergencies," study researchers said. They also shared the following on how to combat the growing crisis:
"Several strategies could reduce adverse mental health symptoms among public health workers during public health emergencies. For example, expanding staffing size (e.g., recruiting surge personnel to backfill positions) and implementing flexible schedules might reduce the need for long work hours; encouraging workers to take regular breaks and time off could help avoid overwork and reduce the risk for adverse mental health outcomes. In addition, implementing, evaluating, and promoting use of employee assistance programs could improve employee resiliency and coping."
Piedmont is one example of what can be done to meet the needs of physicians and advanced practitioners. But even when support is offered, many health care professionals have difficulty asking for it.
"I think there is a stigma around mental health in this industry and often the people who provide care forget about self-care for themselves. They have been so focused on giving care during the pandemic they don't realize they have experienced trauma during the pandemic," says Asia Hernandez, physician experience coordinator within Piedmont's human resources. Hernandez manages the work-life balance programs at Piedmont, which operates 1,871 clinic practices and 22 hospitals.
The organization offers physicians and advanced providers access to free counseling, coaching, financial services, and a work-life concierge through Vital Work Life. The services are not clinically based and are confidential. Each hospital has a wellness committee while clinic practices have a singular wellness committee. Many facilities also include quiet rooms which provide spaces for providers to find peace and rest.
"Our employee wellbeing team partners closely with DEI and ensure everyone is feeling seen and heard. We have veterans who might be desensitized because this is a different kind of battleground. We want to ensure we are supporting them, "says Jennifer Lavoie, director of employee wellbeing at Piedmont.
"I'm so grateful to work for a healthcare system that is addressing all of the potential outcomes of the covid outcomes, including PTSD, with programs. We are all very concerned about this," Lavoie says.
Recognizing the ongoing need for support and mental wellness, Piedmont is launching a women's support group this summer. This group will be led by Dr. Diane Shannon, a physician coach specializing in addressing burnout. Piedmont also hosts quarterly virtual Q&A sessions for doctors where mental health is a part of the agenda, and has plans to roll out a physician-to-physician mentoring program.
As systems like Piedmont work to meet the mental wellness needs of doctors and providers, shifting the view from burnout toward long-term solutions to support healing from trauma should be a priority.
"The pandemic has changed how we view mental health," Hernandez says, noting an increase in work-life balance resources from the beginning of the pandemic to the present.
If you are contemplating suicide or feel helpless, call the National Suicide Prevention Lifeline at 1-800-273-8255 or chat online.
If you're a hospital administrator looking for information on how Jackson & Coker Locum Tenens' staffing can help alleviate your staff's stress levels and staffing challenges, click here.