America's population is concentrated on two ends of the spectrum.
On one end, you have 90.7 million people in Generation Z, those born in 1997 or later, making up the largest segment of the American population. On the other, 71.4 million people make up the Baby Boomer generation, of which women are the majority.
Although their needs are different, barriers to care exist for women from adolescents to seniors. Because of insurance coverage, convenience factors, financial constraints and physician shortages, a women's annual gynecologic exam may be her only doctor visit all year.
Women are increasingly relying on their gynecologists for routine care, and that makes these appointments even more vital to improving patient outcomes.
Here's how to meet demand for care from both ends of the female spectrum:
1. Establish care early for lasting patient relationships.
Most women begin having gynecologic exams in mid-to-late teens, setting the stage for their long-term relationships with healthcare. These exams can help patients avoid teen pregnancy, get treatment for irregular or heavy menstrual cycles or obtain screenings for sexually transmitted infections. Creating a yearly schedule helps establish care and addresses new concerns as they arise.
Young patients who receive great care are more likely to come back to the same organization for services down the line – like when they need an obstetrician to have a baby or when they need a pediatrician for their future children.
Key takeaway: Your providers' ability to build trusting relationships early can help strengthen your referral network and provide better outcomes for the patient throughout her lifetime.
2. Be ready for baby boomer women.
Demographic patterns project that the population of Americans over age 65 will triple by 2030, leading to care shortages. Women are living longer and are now spending a third of their lives postmenopausal.
As our population ages, there's increased demand for quality mid-life services. Women today rely on gynecologists to provide routine care, making it crucial that your physicians know how to identify and provide follow-up recommendations for a variety of the issues aging women may see. These include:
Cancer: One in 8 women will develop cancer over her lifetime. Endometrial cancer is becoming more common in American women, and postmenopausal women are most affected.
Osteoporosis: Osteoporosis can be an elusive condition, but gynecologists can learn to evaluate at-risk women for signs of fracture.

Heart Disease: Heart disease remains the top cause of death for America's women, yet 40% of women say they haven't had a heart health assessment in the past year. A basic heart screen during a well-woman exam can save a life.
Key takeaway: By providing these screenings, your gynecologists can create better patient outcomes and provide necessary referrals to specialists elsewhere in your organization, including radiology, oncology and cardiology.
Gynecologists are on the frontlines of care. Your gynecologists are crucial to women's overall health at all stages of their lives. Meet the demand of today's patient population by creating the right staffing mix of gynecologic providers – from physicians to nurse practitioners.
Do your patients skew younger, older or somewhere in the middle?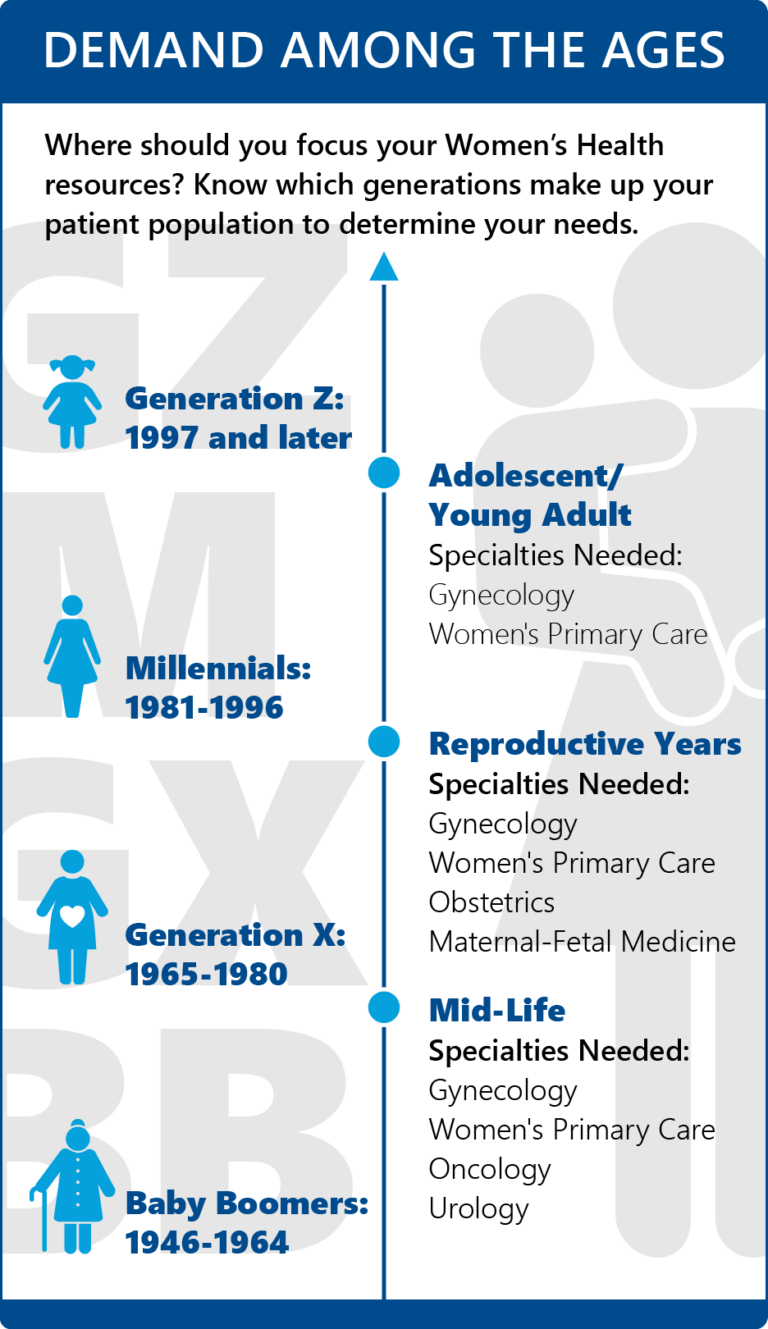 Do you have the right providers?
Who's in your patient population? The answer points to the type of providers you need. Take our quiz to find out who your next hire should be.