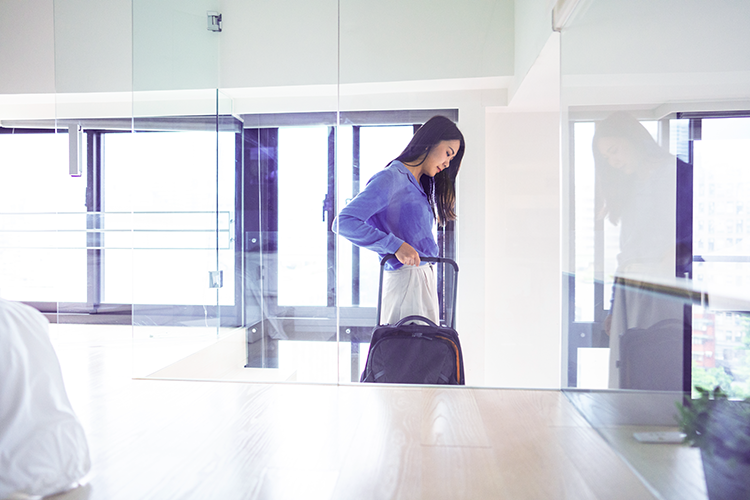 How to make traveling for locums work easier.
You have enough on your mind when starting a new locum tenens assignment. Getting there shouldn't be a burden.
Here are five tips for making locum tenens travel easier:
#1 Get ahead of the masses. 
Skip the busy airport security lines with TSA PreCheck. Apply, pay a small fee, and visit an application center to verify your identity – then you're set for five years. Bonus: keep your shoes on and keep your laptop in your bag while you're in the security line. Click here for eligibility and submit an online application.
#2 Pack smartly. 
Get acquainted with your new facility's dress code and plan outfits accordingly. Neutral-toned pieces that work well in different outfits will help you pack lighter and are appropriate for a healthcare setting.
Keep your most important things such as documents, badges, jewelry, a change of clothes, and your toiletry kit in a carry-on bag. Packing cubes can help organize your belongings and even save extra space in your luggage. A seatback organizer that doubles as a messenger lets you move seamlessly from airplane to airport to rental car.
#3 Create an itinerary.
Have the following stored electronically and written in a small notebook with easy access:
Recruiter's contact information and/or your hospital administrator's contact information.
Flight number.
Rental car confirmation.
Lodging confirmation.
Address to your assigned facility.
#4 Bring your family. 
Having your spouse or pet along for your assignment can make it feel more like home. If you're headed to an exciting destination, make it a vacation for your family. Your physician recruiter can handle the details of getting your family members accommodated.
#5 Keep expense records. 
Most of your expenses should be covered by your agency or facility, but be sure to keep detailed records of anything you buy while traveling. You are able to get tax advantages as a locum tenens physician on items such as travel, meals, housing, tools, and supplies.
Ready to find your next assignment destination?