What to expect for physician employment trends, new care models and more.
A new decade is here. The outlook: the healthcare industry will experience disruption in how healthcare is delivered, where patients seek care and who finances the related costs.
For providers, these factors will change how you care for patients and what skills you'll need for the future.
What's ahead for you and your specialty?
Psychiatry: keeping up with greater demand.
The psychiatry shortage – of both providers and inpatients beds – will continue to plague the nation in the coming year. The psychiatrist workforce is expected to contract until at least 2024, according to a study using data from the Association of American Medical Colleges, the American Board of Psychiatry and Neurology and the U.S. Census Bureau.
The Treatment Advocacy Center estimates that over 95,000 psychiatric beds are needed to bring the U.S. to a minimum level of psychiatric care.
For psychiatrists and psychiatric practitioners, this means demand is high for your services, which could result in higher pay rates for you. Additionally, a lack of beds drives the need for alternative care sites.
Alternative care sites take hold.
In 2020, we're increasingly focused on how to keep mental health patients out of the emergency room. Mood disorders are the third most common cause of hospitalization in the U.S. How can we reach people with mental health conditions before they end up in a full-blown crisis?
Mental health services are increasingly delivered through:
Telepsychiatry. Virtual care has the potential to help hard-to-reach populations get access to mental healthcare. However, barriers exist, including the fact that several states still lack telehealth parity laws.
Primary care. Family medicine practitioners and pediatricians will continue to integrate mental health screenings and treatment into their care or work with a consulting psychiatrist in a collaborative care model.
Schools. Educators at all levels from preschool to college are encouraged to look for warning signs for mental health issues in their students. At the university level, residence advisors, academic advisors and fellow students are also encouraged to refer students who might be in distress to someone who can help. Schools are investing resources in expanding mental health clinics and hiring additional counseling staff.
Importance of child psychiatry.
Internal medicine: a shift in how patients seek care.
Primary care is shifting out of traditional office settings. Data from the Health Care Cost Institute shows an 18% drop in office visits to primary care doctors between 2012 and 2016, as patients turn to urgent care, telemedicine and retail clinics to get immediate care, says STAT News.
As we enter a new decade, physicians and healthcare administrators are focused on providing a better patient experience while caring for a population that is increasingly older and sicker.
Physician-led teams can help satisfy the patient's desire for a coordinated, holistic approach to care while improving health outcomes and satisfaction scores.
In this model, physicians lead a team of other physicians, nurses, physician assistants, pharmacists and social workers to provide a patient-centered health plan. These physician leaders need not have all the answers, but they do need managerial skills to help the team collaborate effectively.
Medical schools are developing programs to foster inter-professional teamwork and prepare students for various models of team-based care.
Hospitalist medicine: alternative sites are the future.
Inpatient units are still in need of acute care, but hospitalists are increasingly seeing need for their skills in less acute settings like skilled nursing facilities, homes and long-term acute care, writes Dr. Nasim Afsar, president of the Society of Hospital Medicine, in a column for The Hospitalist.
This could change the training and skillsets hospitalists need to care for patients in different settings.
Rural patients and telehospitalist care.
More than ever, patients in rural areas need better access to care. The CDC says that rural patients are more affected by chronic disease and are more likely than urban residents to die prematurely from the leading causes of death including heart disease, cancer and unintentional injuries.
Healthcare facilities in rural communities are adopting programs to help attract hospitalists to help improve their patient outcomes. Increasingly, critical access hospitalists are turning to telehospitalist programs to fill in coverage gaps.
For hospitalists, this could mean a big shift in where, when and how they practice.
Industry trends: what everyone's watching.
From merging healthcare organizations to new technological capabilities to startups entering the healthcare space, our industry is poised for continued disruption and changes to how physicians work across all specialties.
Who's employing physicians.
Healthcare megamergers are on the rise. Sellers are getting bigger, creating regional systems that stretch across counties or state lines, according to Kaufman Hall.
Transaction seller size by revenue per transaction.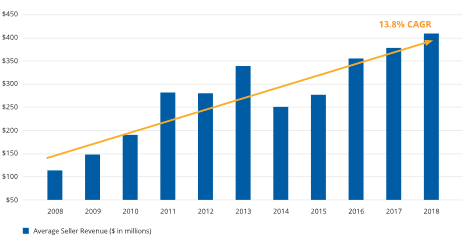 Many of these mergers are aimed at improving cost efficiencies, care efficacy and market penetration. However, studies of organizations involved in mergers show increased costs are passed on to the patients.
Additionally, hospitals continue to acquire physician practices. Hospitals employed 44% of U.S. physicians as of 2018, up from just 25% in 2012. As a physician or advanced practitioner, it's becoming increasingly likely that you'll work for a healthcare organization versus yourself.
Physicians' ability to care, make decisions and empathize with patients will be necessary skills into the future. Artificial intelligence (AI) has made great strides in accurately diagnosing certain infections and cancers and is poised for continued growth. This could change how physicians train and practice.
"AI will change the practice of medicine. The art of medicine, including all the humanistic components, will only become more important over time," says Dr. S. Claiborne Johnston, who teaches at the Dell Medical School at the University of Texas at Austin.
A new decade brings some givens: new technologies, techniques and trends will emerge. But we can be sure that healthcare organizations, physicians and advanced practitioners will continue to look for innovative ways to increase value for their patients while promoting healthy lifestyles and improving patient outcomes.