Your physician and advanced practitioner salary guide.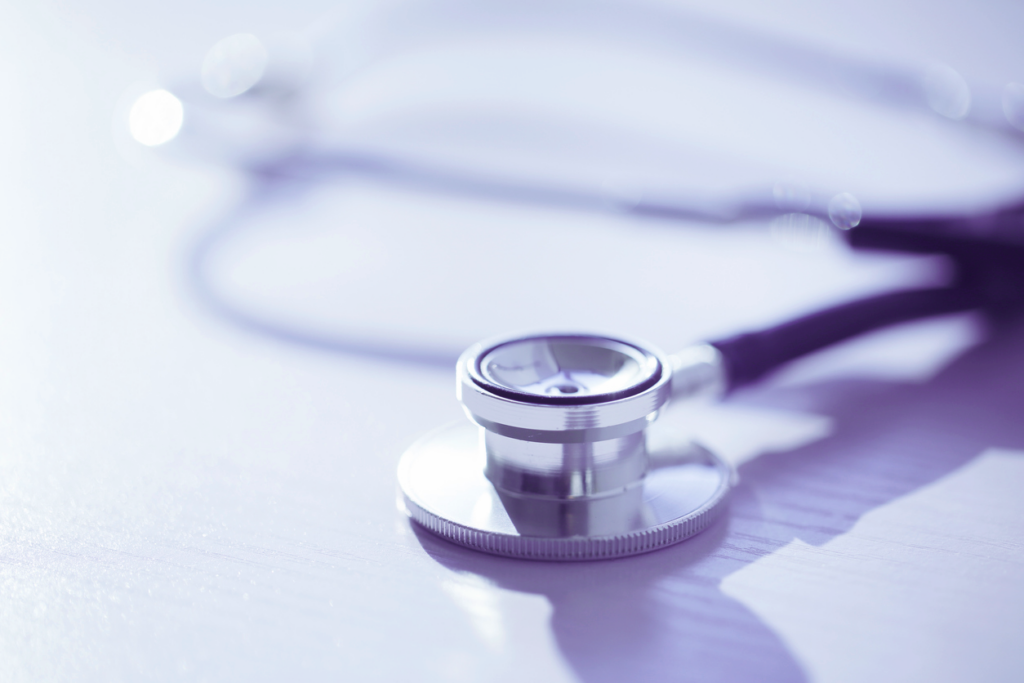 Part of any successful career plan is knowing the going rate for your specialty, experience and region. Demand for healthcare is growing, and we are seeing rises in physician salaries as healthcare organizations compete to attract top talent.
In any industry, there are many factors that influence how much an employee makes. The same is true for medical professionals. Jackson + Coker analyzed and compiled physician salary reports from key industry sources for top physician specialties.
Use this guide as an aid for your career strategy – and as a way to justify your salary expectations when applying for a role.
Physicians as a group made an annual median wage of $214,700, according to 2017 Bureau of Labor Statistics data. Of course, this grouping doesn't show the disparity between physician specialty salaries. For instance, anesthesiologists make quite a bit more, with a median wage of $265,900, whereas internists make $198,370 per year, according to the BLS data.
Compare this to Medscape's 2018 Physician Compensation Report, which looks at average physician salary. In this report gathered from data self-reported by physicians, the average salary for all physicians is $299,000.
That's an increase compared to the $294,000 average salary calculated in Medscape's 2017 report. Physician salaries have continued to steadily rise within the past decade.
Physician shortages: why salaries are going up.
What's behind the salary increases? There is a growing demand for physicians throughout the United States. The Association of American Medical Colleges projects a shortage of more than 100,000 doctors by 2030, as America's population ages, demanding more medical care. Concurrently, our physician population is aging and a large percentage of physicians will retire soon. More than one-third of active physicians will be 65 or older in the next 10 years.
As healthcare organizations compete for a dwindling number of physicians, you can expect that offering higher salaries will be one of the strategies they use to attract new employees.
Salary discrepancies among physician specialties.
Higher salaries for physician specialists isn't the case across the board, however. The average salary for plastic surgeons ($501,000) is over twice that of the average for family medicine ($219,000) and internal medicine ($230,000) physicians.
The top-paid physician specialties in 2018 are Plastic Surgery, Orthopedics, Cardiology, Gastroenterology and Radiology. The lowest paid are public health, pediatrics, diabetes and endocrinology, family medicine, and internal medicine, according to Medscape's report.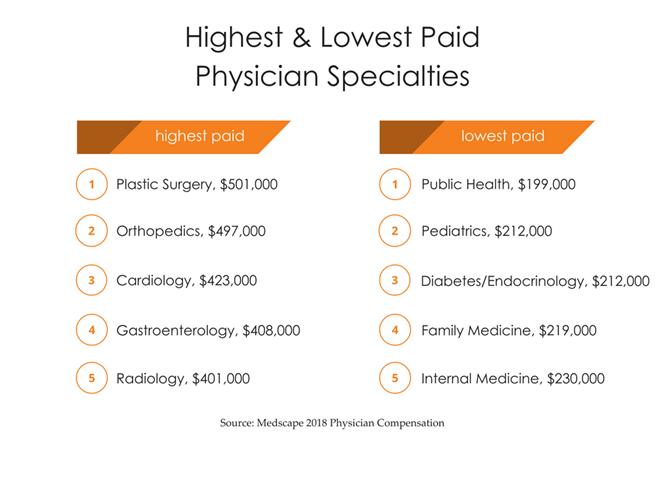 Primary care physician salaries vs. specialist physician salaries.
Primary care physicians make $223,000 versus physicians in other specialties who make $329,000. While there's traditionally been a disparity between what primary care physicians make and what specialists make, primary care physician salaries are rising.
As the market seeks to catch up with primary care shortages, family medicine physicians reported a 5% increase in salaries since last year; emergency medicine reported a 3% increase; and internists reported a 2% increase.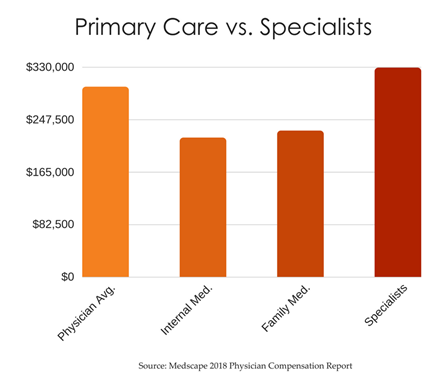 Primary care physicians are in low supply. Only 30% of physicians practice primary care, compared to 70% only 50 years ago. Fewer medical students are interested in pursuing primary care because of the low return on their education investment.
Only 61% of family medicine physicians said they feel fairly compensated, and nearly half said they should make 11%-25% more. However, emergency medicine physicians were the most likely to say they feel fairly compensated out of all physician specialties. Keep these statistics in mind if you're seeking to apply for a position elsewhere or plan to invest in certification in a specialty. 
Psychiatrists rank in the lower half for physician salaries, but they out-earn neurologists, internal medicine physicians and family medicine physicians, among others, according to Medscape's report.
Despite making less than many physicians, almost two-thirds of psychiatrists in the survey said they feel fairly compensated. Employed and self-employed psychiatrists reported the same average salary.
Communities across the United States are feeling the strain of psychiatric shortages. More than half of U.S. counties have no psychiatrists at all. It's most acute in rural or poor areas that have trouble attracting the few psychiatrists available. 
The number of available psychiatric beds in the U.S. has continued to decline over the past decade. This forces ER departments to become waiting rooms for patients who need psychiatric care, causing a strain on resources that can be felt hospital-wide. The National Council for Behavioral Health says there has been a 42% increase in the number of patients going to the emergency room for psychiatric care in the past three years.
Healthcare organizations must compete for fewer available psychiatrists, so this group of physicians is seeing a sharp gain in pay rates. Psychiatrists' average salary was $237,000 in 2018. Psychiatrists made 16% more than they did the previous year, the largest year-over-year gain among physician specialties. 
We expect this trend to continue as a large portion of today's psychiatrists reach retirement age. More than 60% of practicing psychiatrists are over the age of 55.
General surgeons make $322,000, which is 7% more than the overall physician average. However, general surgeons saw a bigger drop in compensation year-over-year than any other specialty. Self-employed surgeons make considerably more than their employed counterparts. Only 54% of general surgeons said they feel fairly compensated.
Compare general surgeons with plastic surgeons who make $501,000 on average, and you'll see there's a big discrepancy among what to pay your surgical staff. Plastic surgeons are also enjoying a 14% increase in year-over-year salary, only outpaced by psychiatrists.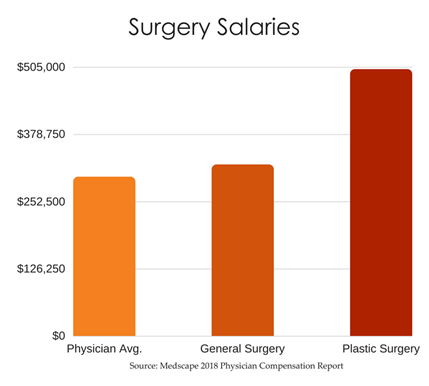 More and more Americans are investing in plastic surgery, and they spent more than $16 billion on cosmetic plastic surgeries and minimally invasive procedures in 2016, says the American Society of Plastic Surgeons. Although they make top dollar, only half of plastic surgeons feel they are fairly compensated.
What goes into a physician salary?
What makes up a physician's salary? Even within a given specialty, earnings can vary widely for individual physicians.
Reasons include:
Employment or private practice.
Type of facility.
For-profit or non-profit organization.
Ability to bring in patients.
Value-based payments.
Location.
Years of experience.
Certifications and education.
How does the practice affect what physicians make?
Across physician specialties, providers in different employment settings can expect different salaries. Doximity, a physician networking website, analyzed physicians' self-reported salary data and found physicians in single specialty groups make the most, while physicians in urgent care settings make the least.
Here is the average compensation across employment types (source: Doximity):
Single Specialty Group, $373,240.
Multi-specialty Group, $355,972.
Hospital, $355,094.
Solo Practice, $354,624.
Health System, $341,444.
Academic, $338,449.
Healthcare Organization, $335,358.
Health Maintenance Organization, $330,523.
Government, $309,241.
Industry/Pharmaceutical, $289,469.
Urgent Care Center/Chain, $252,183.
Where do physicians make the most?
According to Bureau of Labor Statistics data, physicians earn the most in New Hampshire, South Dakota, Alaska, North Dakota and Hawaii.
In many industries, employees are paid the most in big cities where the cost of living is high. But in such a competitive market, healthcare recruiters in secondary markets and rural locations – where there is a lack of available physicians – are paying more in salary or benefits to attract top talent.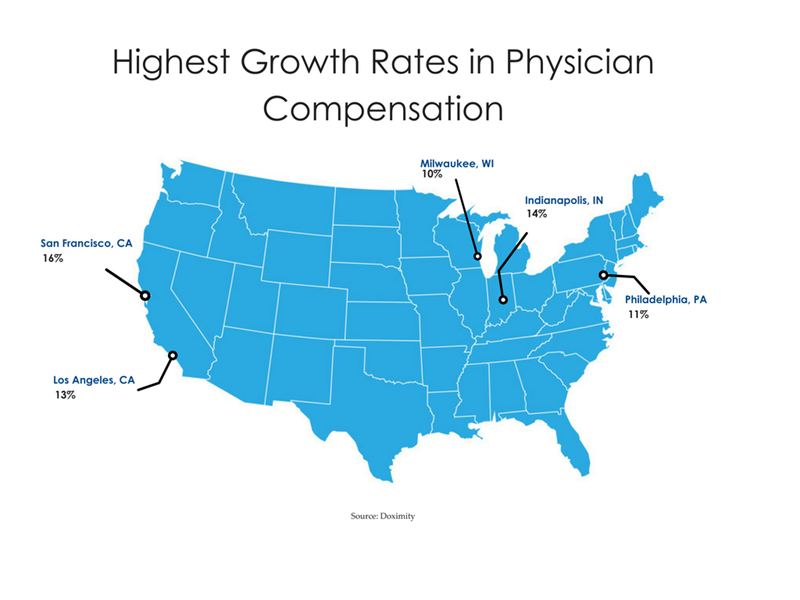 Where are physicians seeing the sharpest pay raises? Doximity analyzed which cities had the biggest year-over-year compensation gains – and which cities saw the biggest declines. Physician salaries are growing fastest in San Francisco, California, at 16%, but they actually shrunk by 9% in Phoenix, Arizona.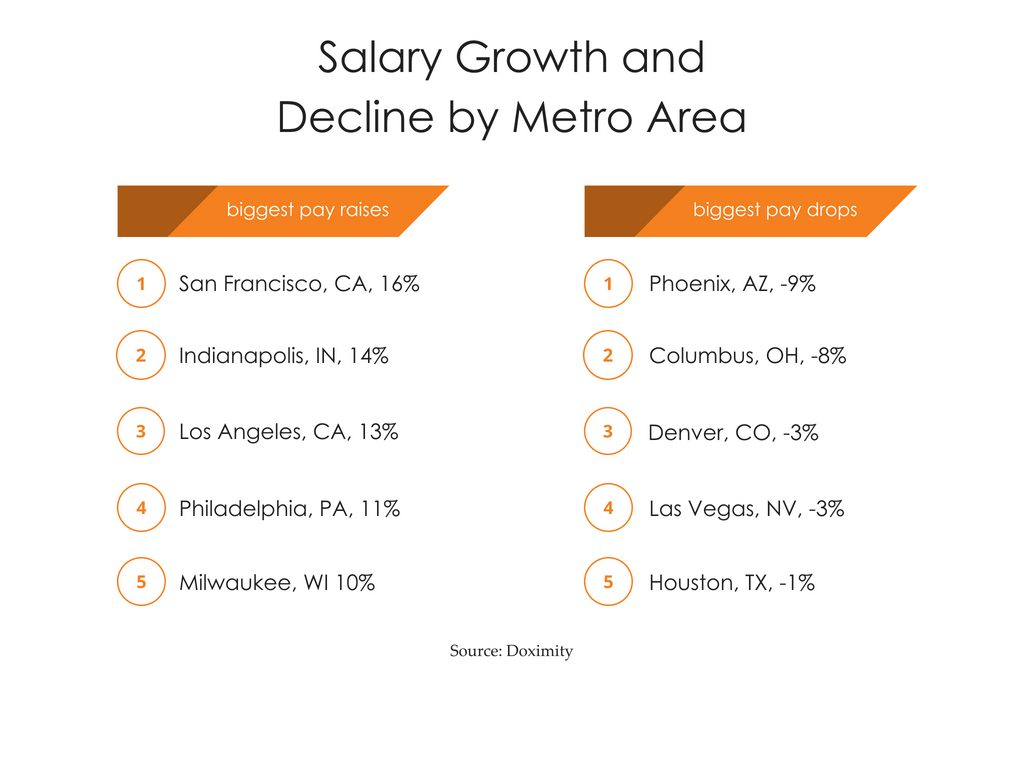 What to know about benefits for physicians and advanced practitioners.
Beyond base salary, you'll need to take benefits into account when considering a new position.
Employee benefits cost U.S. employers an average of $11.55 per hour, according to recent data from the Bureau of Labor Statistics, making up about 30% of employees' total compensation. So, if you make a salary of $299,000, you can expect to receive about $90,000 in standard benefits.
A strong basic benefits package includes medical and dental insurance, cost sharing, disability insurance, life insurance, paid time off, retirement funds, CME dues and malpractice coverage, according to SullivanCotter, a firm that provides healthcare benefits strategy.
Of course, as organizations try to woo a small pool of physicians, many are offering non-traditional benefits like relocation expenses, student-loan repayment and sign-on bonuses which can reach into six figures.
Filling provider gaps with nurse practitioners.
The nurse practitioner market is booming. There are more than 248,000 NPs currently licensed in the U.S., a number that has more than doubled since 2007, according to the American Association of Nurse Practitioners.
What's behind the NP growth rate? The same factors contributing to America's physician shortage. The lack of available primary care physicians can be counteracted by services offered by NPs.
Lawmakers across the U.S. are seeking loosened restrictions for NPs to give them greater autonomy when caring for patients, avoiding the need for physicians to supervise. Last year, the Veterans Administration decided to grant full practice autonomy to NPs, CRNAs and clinic nurse specialists.
The Bureau of Labor Statistics projects 31% job growth for NPs by 2024, outpacing growth for both physician assistants and physicians. The occupation ranks #4 for 100 Best Jobs in 2018 by U.S. News & World Report.
The best states for nurse practitioners.
The top states for NP salaries 2017 are California, Alaska, Hawaii, Massachusetts and Connecticut. Compare that with states with the highest concentration of jobs and location quotients: Tennessee, Mississippi, Maine, Massachusetts and New Hampshire.
States with highest annual mean wage for nurse practitioners:
California, $126,770
Alaska, $125,140
Hawaii, $122,580
Massachusetts, $120,140
Connecticut, $118,500
Source: Bureau of Labor Statistics
States with highest location quotient for nurse practitioners:
Tennessee
Mississippi
Maine
Massachusetts
New Hampshire
Source: Bureau of Labor Statistics
States with high location quotients have higher concentrations of nurse practitioners. On a more granular level, the top paying metro areas for NPs are (looking at annual mean wage) are Palm Bay, San Francisco, Spokane, Alexandria, and Peabody-Salem:
Top paying metro areas for nurse practitioners:
Palm Bay, FL area, $164,180
San Francisco, CA area, $151,660
Spokane, WA area, $150,040
Alexandria, LA area, $144,010
Peabody-Salem, Massachusetts area, $142,730
Source: Bureau of Labor Statistics
Starting nurse practitioner salaries.
Nurse practitioners with more than 20 years of experience made $107,000 in 2017 versus $105,000 for 11-20 years and $102,000 for 6-10 years of experience.
The booming role of physician assistants.
Physician assistants are poised to grow at a much faster rate than other occupations. Physician assistant employment is projected to grow 37% by 2026, according to the BLS, making it the fifth fastest growing occupation. PAs will continue to play an integral part in our healthcare system as the demand for healthcare services grows.
The median annual wage for physician assistants in 2017 was $104,860. Of course, the type of your facility impacts PA salaries, with those in employment making more than those in physician offices.
PA median annual wage by employment type:
Employment services, $114,780
Outpatient care centers, $111,740
State, local and private hospitals, $108,250
Offices of physicians, $102,890
Educational services, $101,730
Source: Bureau of Labor Statistics
The best states for physician assistants.
Physician assistants salaries vary by state. In 2017, the states where PAs make the most are Washington, New Jersey, Nevada, North Dakota and Hawaii. States with the best job opportunity are Alaska, South Dakota, New York, Maine and Montana.
States with highest annual mean wage for physician assistants:
Washington, $120,200
New Jersey, $119,260
Nevada, $119,210
North Dakota, $117,500
Hawaii, $116,600
Source: Bureau of Labor Statistics
States with highest location quotient for physician assistants:
Alaska
South Dakota
Maine
New York
Montana
Source: Bureau of Labor Statistics
When we look at cities, the top metro areas for PA salaries (by annual median wage) are Cedar Rapids, West Palm Beach, Olympia, Spokane and Mount Vernon.
Top paying metro areas for physician assistants:
Cedar Rapids, IA area, $146,870
West Palm Beach, FL area, $143,750
Olympia, WA area, $141,510
Spokane, WA area, $137,240
Mount Vernon, WA area, $136,900
Source: Bureau of Labor Statistics
We expect physician assistant salaries will continue to rise as demand for their services increases. Many facilities are turning to PAs to help ease physician staffing shortages, reduce physician burnout and provide services at a lower cost.