The history behind why we celebrate.
A small town with a big impact.
The city of Jefferson is a small community in northeast Georgia. Far removed from any major cities, it has a population of fewer than 10,000.
The downtown area is a throwback to days of yore. Here you'll find local shops and restaurants along Main Street, a road citizens march down each year for the annual Christmas Parade.
Tucked on a side street next to a pharmacy and a pizza place, is a small museum that pays homage to a great piece of Jefferson – and American – history.
Anyone alive today who has had surgery should be grateful for what happened here. It's here that Dr. Crawford Long performed the first surgery using anesthesia.
The story of Crawford Long.
Crawford Long was born in Georgia in 1815, graduated from the University of Georgia, and then headed up north to the University of Pennsylvania to study medicine.
While in surgical training, he saw patients undergoing surgery with cruse pain-relief methods. At the same time while away at school, he witnessed friends at parties who would inhale a drug and seemingly feel no pain as they spent the rest of the night falling down laughing. This gave him an idea.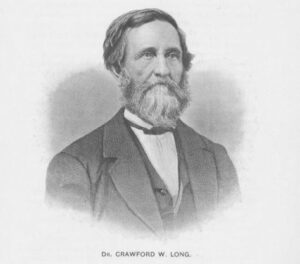 Dr. Long returned after his internship to Georgia, where he opened up shop in Jefferson. In 1842, a young man came to Dr. Long to have a small tumor removed from his neck.
It was time for Dr. Long to test his theory. That drug he had seen used by college kids – ether – would help patients undergo surgery painlessly, he thought.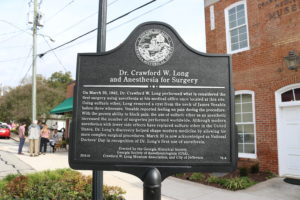 Sure enough, on March 30, 1842, James Venable was able to endure the removal of the tumor with no pain, verified by three witnesses. This day goes down in history as the first use of surgical anesthesia.
The roots of Doctors' Day.
You may have noticed that March 30 is also the day we celebrate National Doctors' Day in the United States each year. The connection to the date's historical significance is easy enough to make, but there's more to the story than that.
Enter Eudora Brown of Ft. Lamar, Georgia. From childhood, Eudora had a soft spot for doctors and their important work in saving lives. She even married a doctor herself in 1920.
She wanted to honor the dedication of local physicians, and what better day to do it than on the anniversary of Dr. Long's discovery?
With a blessing from the local government, she organized the first Doctors' Day on March 30, 1933, marking the occasion by sending cards to the county's physicians and their wives. She also took flowers to Dr. Long's gravesite.
The movement spread, and by 1958, the U.S. House of Representatives passed a resolution recognizing March 30 as Doctors' Day.
Just like we honor our Mothers on Mother's Day, Doctors' Day is a reminder to thank the doctors who impact our lives. Being a physician has become a tough profession – one that is often thankless.
Physicians across the country and world choose this profession to help people and to make miracles happen. Doctors – like all of us – need reminders that we are grateful for their dedication and sacrifices.
For more information, visit the Crawford W. Long Museum online at crawfordlong.org.